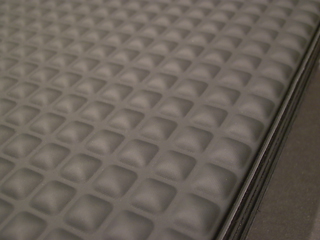 The Cushion
The Cushions core is of high-density polyethylene foam, which is one of the most
environmentally friendly plastics. The material is repellent to water and provides
great isolation to cold surfaces.
The Cushion comes in three versions for in- and outdoor use,
The coated version (shown top) is for in- and outdoor use.
it is moisture vapour permable and waterproof.
The woolen version (100% furniture wool, 9 differet colours)
is for indoor use, finally there is the combination
of both with wool on the one side and coating on the other.
The Cushion was one of 5 nominees
for the Formland design award, spring 2008.
Here´s a filmclip from Formland,
(back)